L.A. Guns came back to Phoenix and put on a great show at Club Red in Tempe. Kenny Kweens and Phil Lewis both played Mudd Custom Guitars for the show. Phil Lewis played a Black MT Mayhem Edition and Kenny Kweens Played his Signature Edition 'Electrostar' Bass. The crowd obviously loved the show and the band played their hearts out after a very long road trip. Phoenix was the last stop before the band headed back to L.A. for a well deserved rest. Due to travel mix ups beyond their control the band was seriously lacking sleep after the previous nights gig in New Mexico, but they put on a great show none the less despite the obvious tiredness. Kenny Kweens who only recently joined the band seemed to fit in very well. The band had a great vibe and certainly fired the crowd up playing all the L.A. Guns favorites. I'm sure L.A. Guns will be back on the road again soon, when they are make sure you catch a gig and see some Mudd Guitars in action.
Thanks for Rocking the Mudd guys… we're very proud to have you represent our guitars!!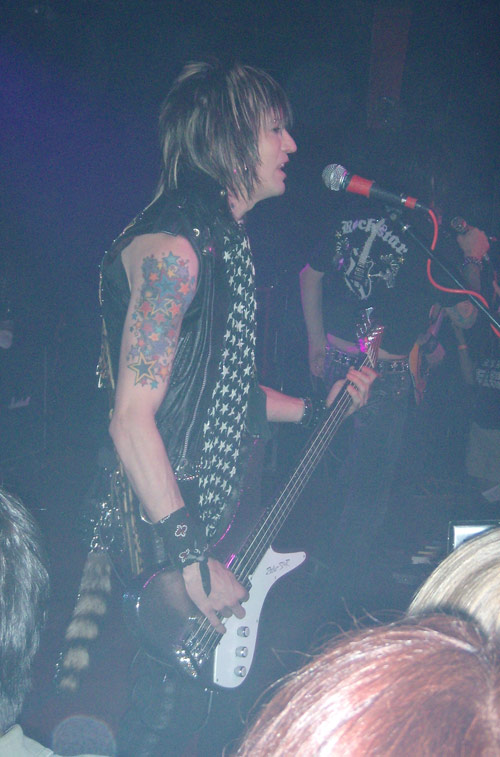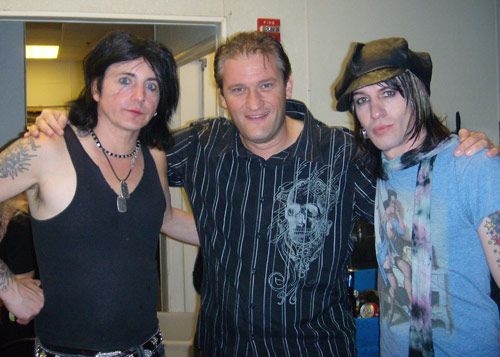 Jackyl kicked ass at Rocklahoma!! The whole band put on an awesome show, Roman Glick and Jeff Worley both played their Mudd Custom guitars. The 'Glick Stick' and the 'Worley Wolf' performed flawlessly and both sounded amazing. The band played for over an hour in front of a very appreciative crowd. They then spent over two hours in the meet and greet line until they had spoken to every fan who wanted to meet them. Jackyl are great guys and some of the coolest guys I've ever hung out with.
Thanks for Rocking the Mudd guys… we're very proud to have you represent our guitars!!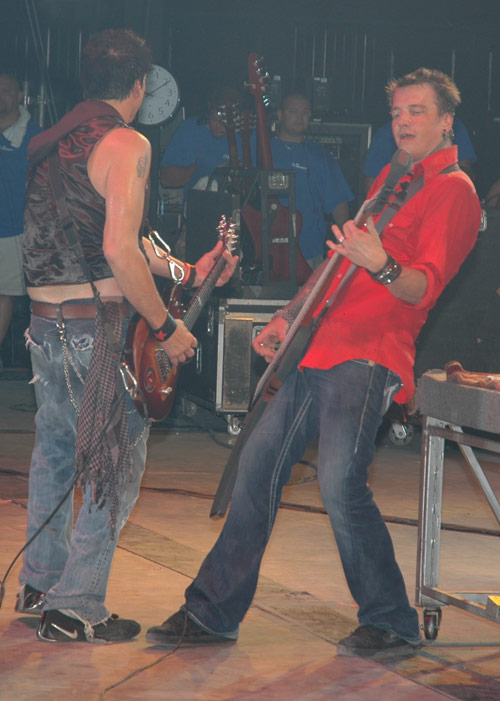 Beautiful Creatures played to a packed house at Rocklahoma last night. Joe Leste and the rest of the band put on a great performance for the enthusiastic crowd. Kenny Kweens was awesome pumping out the beat with his Mudd Guitars custom Electrostar Bass. The sparkle finish looked amazing under the house lights as the band powered out their set. New band members Justin on drums, and Delta on lead guitar did a great job and fitted in well with the line up. At one point Delta's strap button broke off his guitar, but he didn't even miss a note, he just threw the guitar up on his knee and carried on playing. At the end of the song he just duct taped the strap back on and called it good. Deltas playing was superb, a very talented guitarist who I'm sure will be a welcome addition to the band. Anthony Focx was solid on Rhythm as always and the band sounded very tight with the new additions.
Kenny Kweens also recently joined LA Guns, so now you'll get to see him rockin' out the Elecrostar with two great bands. Nice job Kenny, keep rockin' the Mudd.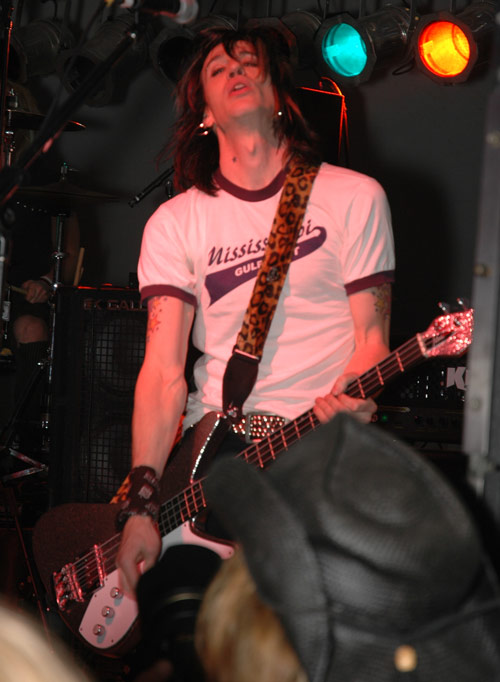 Mudd Endorsed artist Roman Glick, Bass player for legendary Rock band Jackyl and also for Player Kommander, is about to go on tour. Roman called us with a slight problem, he couldn't find a case big enough to fit his 'one-off' axe of destruction… 'The Glick Stick'. So what did we at Mudd do… we made him one! He sent us the Stick for a check-up prior to the upcoming 'Player Kommander' tour, and we sent it back to him in a shiny new custom made case. Well actually it wasn't shiny, it was black and very ominous looking, because we covered it in bed liner. If you've ever seen Roman play Bass, you'll know that he takes no prisoners and he definitely needs a case that's as tough as he is.
If you've never seen a 'Player Kommander' gig… you need to. These guys kick ass big style, 'White out of the Mind' and 'Borrowed Soul' are two of the best songs you'll ever hear. If you haven't checked out PK yet, you need to visit their amazing website at www.playerkommander.com. There's some really cool videos of the band in action, as well as a band bio, merchandise and lots more… they even sell Vinyl!
Good luck on the Tour guys… we hope to see you playing Phoenix very soon!
For a list of upcoming tour dates CLICK HERE
You can also hear some of the bands music on their MySpace page.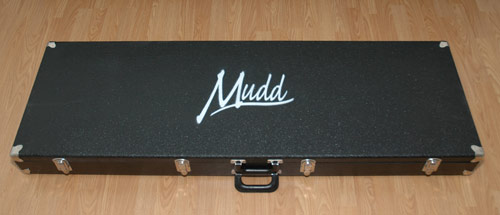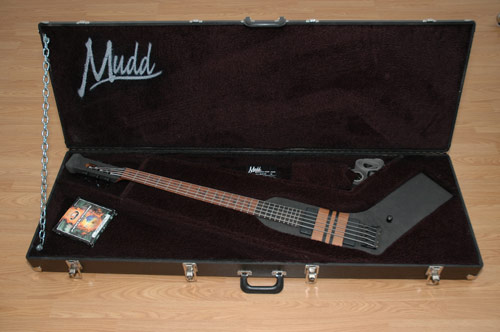 Mudd Guitars is very pleased to announce a new artist to the Mudd Guitars line-up. Phoenix based 80′s Hair Rock Band 68 Guns have been dominating the local music scene in Arizona for the last eight years. 68 Guns are renowned as one of the leading local bands in the Phoenix area. Bass Player 'Zulu' was the very first artist signed by Mudd Guitars when we started the business, now we're very pleased to announce that Lead Guitarist 'Thor' has also joined the Mudd Guitars line-up. Thor has actually been playing one of our 'loaner' guitars for the past few gigs the band have played. We were finally able to buy him enough beer to convince him to join our ever increasing artists stable. Thor will continue to play the Zebra G-String until we finalize his own custom design during the next couple of months. Watch this space for more news on Thor's guitar as we build it.
Welcome to the family Thor, we're very pleased you decided to get into the Mudd!!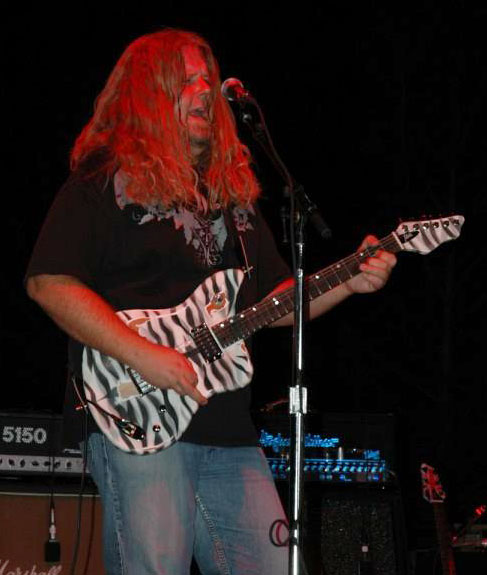 Phoenix based Hair Rock band 68 Guns rocked the annual 'Zoobrew' Festival hosted by the Phoenix Zoo. The band played for almost two hours for the 4000 plus guests. Thor and Zulu worked their Mudd Custom guitars hard to fire up the crowd. Thor played his full custom neck through Zebra G-String and Zulu played his Zulu Pirate Bass. The band were also joined on stage by Mudd Guitars owner Jack Frost for a couple of songs, Jack played his Mayhem Anarchy Edition through a Hughes & Kettner TriAmp MK2. Nothing sounds better than a Mudd Guitar played hard through any Hughes & Kettner Amp. Mudd Guitars also donated a guitar to the charity raffle to help raise funds for the Zoo.
Thanks to Thor and Zulu for playing the Mudd!! You guys Rock.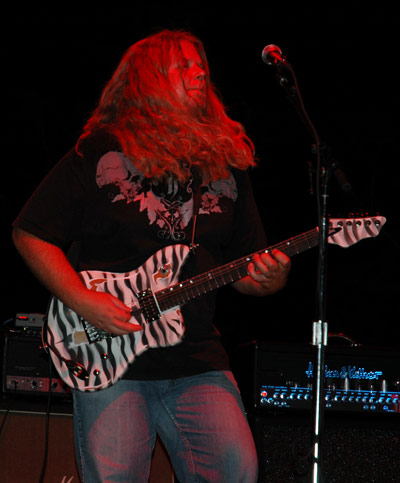 Mudd Guitars is very pleased to announce our first stocking dealer. Naked Dave's Music in Mesa is an independently owned dealership and now has Mudd Guitars in store for customers to check out and play. Dave currently has the Arizona John Junior Custom and a blue G-String in stock. So next time you're passing Dave's, stop in and check them out. Dave also does mail order sales, so you can always contact him and he'll ship it to you.
Thanks Dave, we're very pleased you decided to get in the Mudd!!
Naked Dave's Music
1731 W. Baseline Road #102
Mesa, AZ 85202
Tel: 480-820-0882
www.nakeddavesmusic.com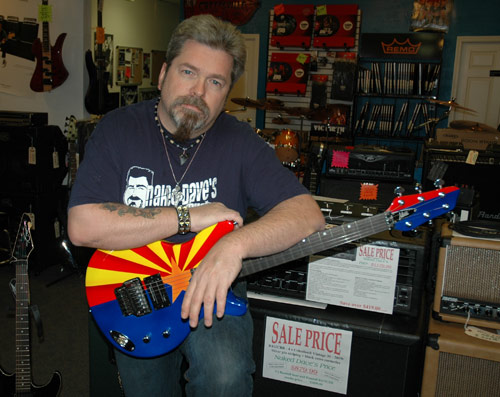 I'm sure most of you probably already know this, but hot women and bad ass guitars sort of go together pretty well. So when Mudd Guitars was asked by a VERY hot adult website girl, if she could use one of our guitars for a photoshoot, how could we possibly refuse! Angel was born and raised in the 'Lone Star State' and when she saw our custom Texas Flag John Junior model, she told us 'I just have to do some pictures with that guitar, it looks so amazing and I promise I'll be very grateful if you let me use it'. Well that sealed the deal, and when Angel came through Phoenix on her way to L.A. she stopped by the shop and picked up the JJ.
We hope you enjoyed using our axe Angel… and errr… could you please just wipe it down before you bring it back… Thanks

To visit Angel's website and check out the pictures she took with the guitar CLICK HERE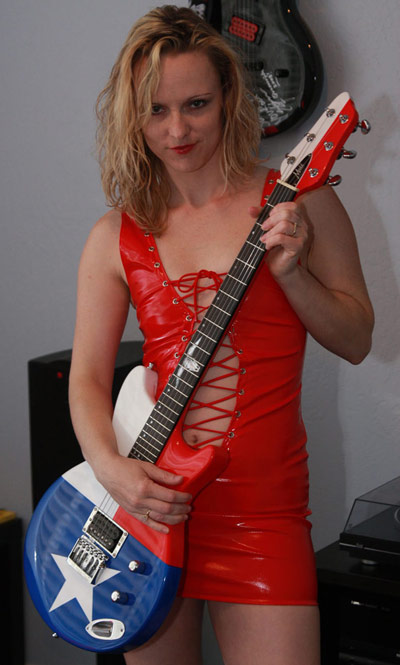 To say Jackyl had an amazing gig at Amos on Feb 20th would be an understatement. The band was on top form and played to a packed house as Charlotte welcomed the legendary rockers back to North Carolina. Mudd presented Jeff Worley with his new signature model Worley Wolf Custom guitar on stage… The crowd approved and cheered loudly as Jeff plugged it in, the first song he played with his new axe… 'Down on Me' The guitar sounded amazing as Jeff tore it up for the rest of the night. As always at the end of every Jackyl gig, the band went to the merch booth and were there for over an hour, shaking hands, having pictures taken with fans and signing more naked breasts than I could count… this band love their fans and the fans adore them back!
An awesome night at a great venue. I won't easily forget Charlotte, this town is over flowing with awesome food, more stunning women than you can imagine…. and a heart that loves to ROCK!! As Arnie would say…. I'll be back….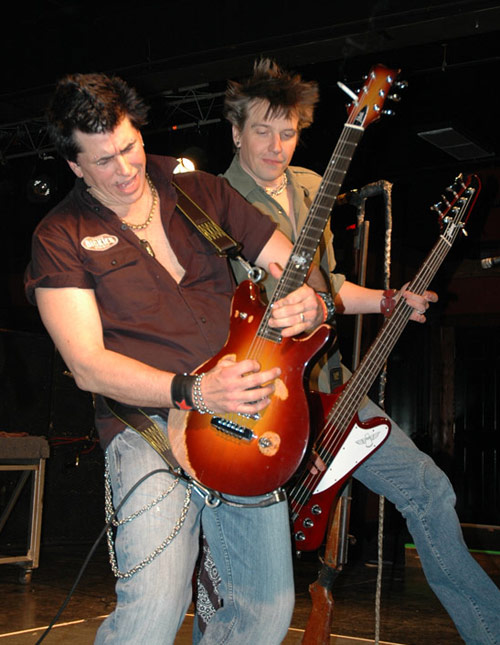 Jeff Worley's new custom Mudd Guitar is almost ready. We finished building it today and put strings on it. We always completely build the guitars to make sure there are no problems with them, and to make sure the instrument is exactly to spec before we put the final finish on it! Jeffs went together like a dream, was perfectly to specs, and sounds amazing… we even put in a pearl Jackyl logo on the 12th fret. We've already stripped it down again and started applying the Tobacco burst finish.
Only a few more days Jeff and you'll have it in your hands. Watch out Charlotte, there's a new Sheriff in town!!!