We're now in the process of building Jeff Worley's new one-off Mudd Custom Guitar. Jeff is the lead guitarist with the legendary rock Band Jackyl. We're hoping to have the guitar finished before Feb 20th, so we can deliver Jeff's new guitar to him in Charlotte NC. Jackyl are playing a one night gig at Amos in Charlotte. Come by and check out the gig and you can see Jeff ripping it up with his brand new custom axe for the very first time!!
We can't wait to see Jeff playing his new Mudd…. !!!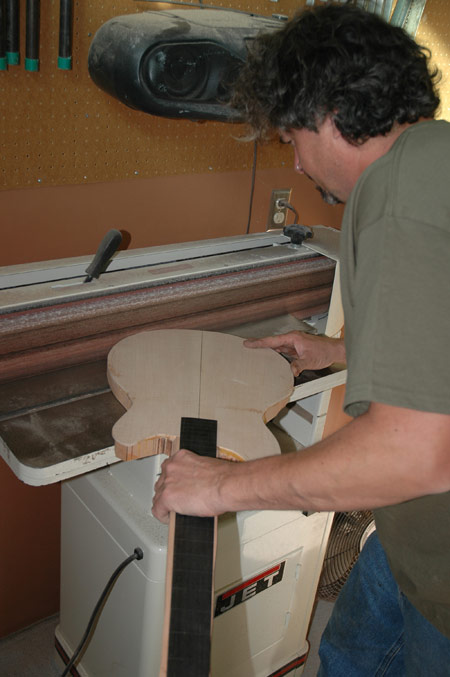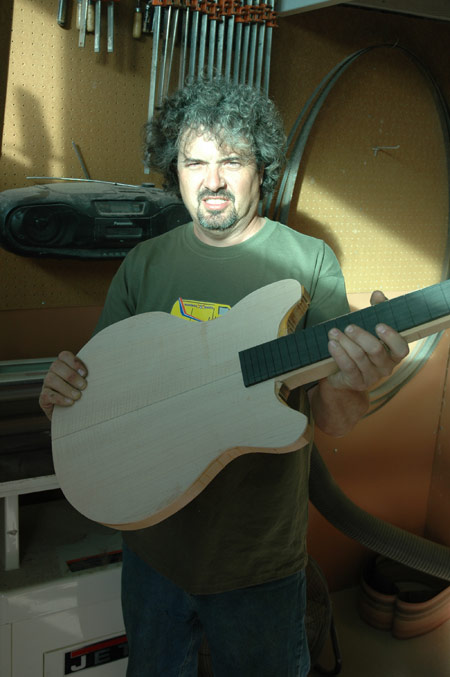 Well we made it to Hollywood and finally delivered the 'Glick Stick' Bass to Roman, to say he likes it would be an understatement…. He absolutely LOVES it. He immediately taped it, and we couldn't get it out of his hands all night… Mudd tried once and a fight broke out… Roman was not letting his new bass out of his sight… he even slept with it HONESTLY!!
We're glad to like it buddy… we can't wait to see it on stage tonight with Player Kommander….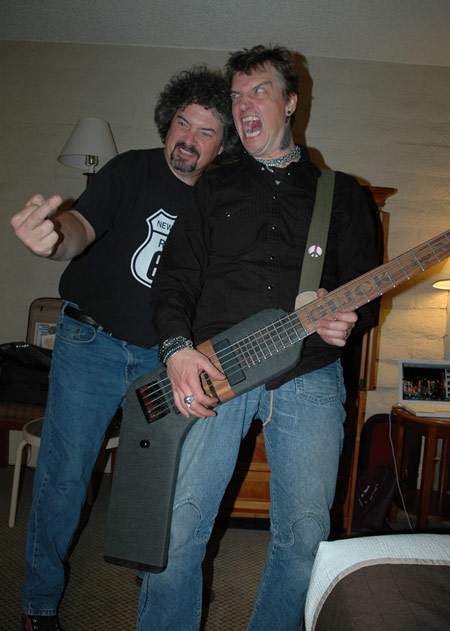 Last year at the Rock the Bayou festival in Houston, Chip was at the Meridian club for an after hours party. He got up on stage to jam a few songs but didn't have a bass. We loaned him a Zulu Bass that we had taken to the club for Nasty Pistolero to play. Nasty plays with the Gypsy Pistoleros who are a Mudd Endorsed band and who were also playing at the after hours party. After Chip had finished playing his songs he got off stage, went up to Jack and said 'I love it… build me one'. After some research we found out the Chip loves the color green and also loves the Peace Symbol. So we combined the two and came up with a definite 'Chip Z'Nuff Bass'. With a custom 12 fret inlay, neck through design, and EMG pickups, this bass Rocks!!
We hope you enjoy your guitar Chip, I'm sure it will be making an appearance at some of the Rock Festivals this year!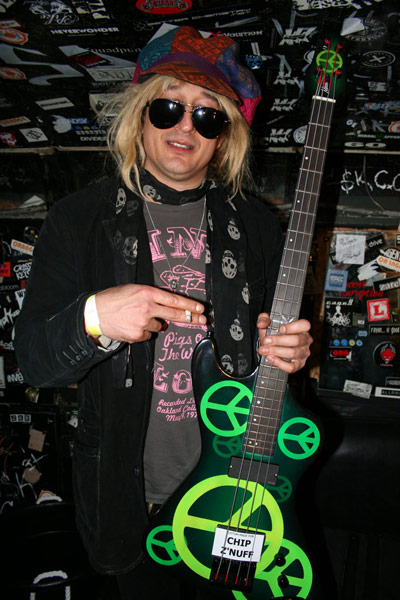 At Mudd Guitars we firmly believe that Hughes and Kettner amps are the best on the planet, we don't use anything else in our shop when we test and demo our instruments. We pride ourselves on building amazing guitars, we tune the tone of our instruments by careful wood selection and solid construction. For that amazing tone to be faithfully reproduced, you need an amazing amp and Hughes and Kettner amps deliver beyond any expectation. Paul Airey is the Director of Quality Management at Hughes and Kettner, he's from England so he and Jack get along really well. Jack is co-owner of Mudd Guitars and is also from England. Paul always stops by the Mudd booth at the NAMM show to chat and hang out. This year when he visited the booth, he fell in love with an Old Glory Michael Thomas Mayhem Signature Edition that we had on display. Needless to say once Paul played it he just couldn't leave without it, especially after hearing it through a Hughes and Kettner amp. So Old Glory has now crossed the pond and has a home in sunny old England.
We know you're going to love your new Mudd Guitar Paul, thanks again for the business and come back and see us again soon.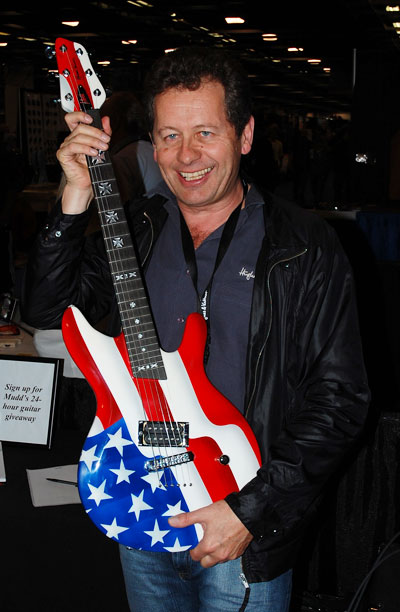 Mudd Guitars first endorsed artist was a local Phoenix bass player, Scott Bagley… better known to everyone as 'Zulu'. Scott has helped our company a great deal since we set-up shop in 2006. He's an amazing graphic artist, and is responsible for the design of our company logo, all our printed materials and our print ads. Getting ready for the NAMM Show is a huge project for a small fully custom guitar builder such as ourselves. Zulu was a great help to us, he came out early to help set-up the booth, helped man the booth during the show and stayed late to help tear down. We built this bass as a surprise for Zulu to thank him for all his help. He'd been talking about getting a Pirate version of his signature model for some time, but he's never gotten around to actually building one. We presented his new bass to him during the NAMM Show and he was very pleased with it.
We hope you enjoy playing your new axe Buddy, thanks again for all your continued help with the company.
Kenny Kweens played his new custom Electrostar Bass in public for the first time last night. Kenny got up on stage with Adler's Appetite and jammed with the band. The Electrostar looked awesome under the stage lights, the deep sparkle finish is really amazing. As soon as Kenny fired up the bass hit the mix like a freight train, the punch and tone has to be heard to be believed. It was obvious from the look on Kenny's face that he's very pleased with the creation of the Electrostar. Mudd Guitars is very pleased to be working with Kenny, he's an awesome musician and a very cool guy to hang out with. Thanks Kenny…. and keep Rockin the Mudd!!!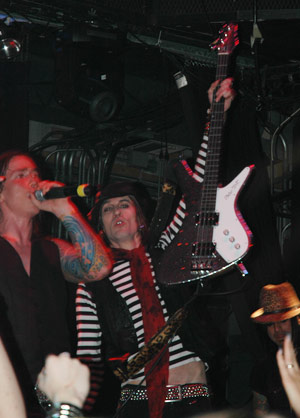 The Kenny Kweens 'Electrostar' bass is finally finished!! This bass is beyond amazing and is ready to Rock when Kenny Kweens gets it in his hands. The 'Electrostar' is a very unique bass with an amazing paint job and a great design. If you want to check out the Kenny Kweens 'Electrostar' bass in person, it will be on display at the Mudd Guitars Booth during the NAMM show. Stop by booth #1070 and you may even bump into Kenny Kweens while you're there.
Mudd Guitars is pleased to announce that we'll be exhibiting at the NAMM Show again this year. We've got a lot of really cool new guitars for the show, as well as some very unique one off customs that we can't wait to show you. Some of our artists will also be coming by the booth during the four days, so make sure you stop by booth #1070 on the lower floor, say hello and check out all of our new stuff.