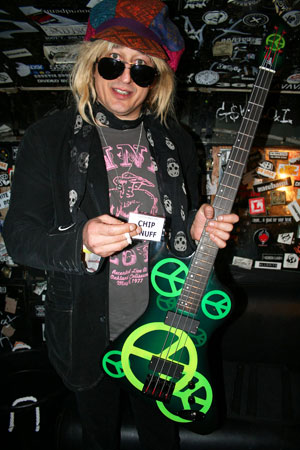 Chip Z'Nuff is one of the world's most enduring musicians. Formed in 1984, Enuff Z'Nuff soon grew a huge following. The band's first single, "Fingers On It," received recognition when it was featured in the 1986 cult movie Henry: Portrait of a Serial Killer.
Recently, Chip Z'Nuff has performed worldwide with the band Adler's Appetite, which features former Guns N' Roses drummer Steven Adler, as well as Missing Persons. Enuff Z'Nuff are also always regular performers at the Rocklahoma Music Festival in Pryor, Oklahoma. We actually met Chip at an after show party at a club in Texas after the 'Rock the Bayou' festival. Several prominent musicians were at the party, and the gig soon turned into an all star Jam Session. Chip jumped on stage to play a couple of songs, and was handed a Mudd Bass to play by Scott 'Z' Bagley. As soon as Chip came off stage, he asked Scott "where did you get that guitar?". Scott introduced Chip to us, and a personal custom Mudd Bass was the result. Chip wanted an exact copy of 'Z's' Bass, but with his own custom peace symbol paint scheme. We were more than happy to help him. We presented Chip with his Bass back stage at the Key Club on Sunset Strip. He was playing with Adler's Appetite during the  L.A. NAMM show. A crazy night, with a crazy guitar, presented to one crazy Bass player!
Thanks for the love Chip, and keep rockin' the Mudd.