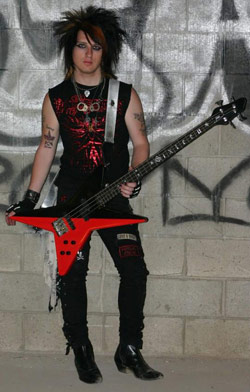 Jakki Blayze is the bassist for the hard rock bands Spektra, and Love and a .38. Love and a .38 are a four piece hard rock band based out of Los Angeles, CA.  They have gained notoriety in the Hollywood rock scene, playing to capacity crowds at Sunset staples like The Viper Room, The Roxy Theatre, and The Key Club. Love and a .38 has maintained a strong online presence, as evidenced by Total Rock Radio acknowledging them as one of the top ten best unsigned bands in the music scene today.
The band was dubbed the Los Angeles representative for Hard Rock Café's "Ambassadors of Rock." In early 2010 they completed their self-titled debut EP, mixed by Grammy Award winning engineer Shawn Sullivan. The five song album gives distinctive nods to their classic rock sensibilities and punk influences, but has a decisively modern edge.
Jakki has commissioned Mudd to build several guitars for him, all to his exact design and specifications. Thanks Jakki for choosing Mudd Guitars.